Russian authorities mounted a special operation to arrest a former traffic police officer who claims to be the reincarnation of Jesus and has run a cult based in the depths of Siberia for the past three decades.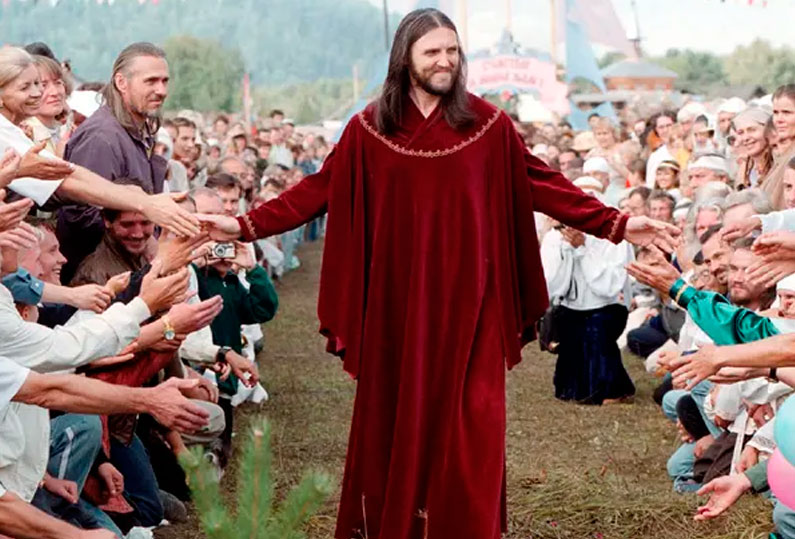 Former traffic officer Sergei Torop, AKA Vissarion, arrested in special operation in Siberia
Vissarion, real name Sergei Torop, pictured greeting followers in 2002
Helicopters and armed officers stormed communities run by Sergei Torop, known to his followers as Vissarion, and arrested him and two of his aides. Russia's investigative committee said it would charge him with organising an illegal religious organisation, alleging that the cult extorted money from followers and subjected them to emotional abuse.
Torop, 59, with long grey hair and a beard, was led by masked troops to a helicopter. The operation involved agents from Russia's FSB security service as well as police and other agencies. Vadim Redkin, a former drummer in a Soviet-era boyband who is known as Vissarion's right-hand man, was also arrested, along with another aide, Vladimir Vedernikov.
Advertisement
Torop, who lost his job as a traffic officer in 1989, claimed he experienced an "awakening" as the Soviet regime began to collapse. In 1991 he founded a movement now known as the Church of the Last Testament.
Several thousand followers live in a series of remote hamlets in the Krasnoyarsk region in Siberia. Converts to the cult have included professionals from across Russia as well as pilgrims from abroad.
"I am not God. And it is a mistake to see Jesus as God. But I am the living word of God the father. Everything that God wants to say, he says through me," Vissarion told the Guardian in 2002.
Russian media reported that in the original ideology of the cult, Vissarion claimed Jesus was watching over people from an orbit close to Earth, and the Virgin Mary was "running Russia", but later he declared himself to be Jesus.
His commune mixes a selection of rites drawn from Orthodox Christianity with environmental edicts and a series of other rules. Veganism is enforced and monetary exchange is banned inside the commune. Followers wear austere clothing and count years starting from 1961, the year of Vissarion's birth, while Christmas has been replaced by a feast day on 14 January, his birthday.
It is not clear what will happen to the disciples now that their leader has been arrested, nor is it clear why authorities decided to move now. The official Russian Orthodox church has long condemned the group but officials have largely left the devotees alone. Some Russian media outlets reported that the community had become involved in a dispute with local business interests.
… as you join us today from Brazil, we have a small favour to ask. Through these turbulent and challenging times, millions rely on the Guardian for independent journalism that stands for truth and integrity. Readers chose to support us financially more than 1.5 million times in 2020, joining existing supporters in 180 countries.
With your help, we will continue to provide high-impact reporting that can counter misinformation and offer an authoritative, trustworthy source of news for everyone. With no shareholders or billionaire owner, we set our own agenda and provide truth-seeking journalism that's free from commercial and political influence. When it's never mattered more, we can investigate and challenge without fear or favour.
Unlike many others, we have maintained our choice: to keep Guardian journalism open for all readers, regardless of where they live or what they can afford to pay. We do this because we believe in information equality, where everyone deserves to read accurate news and thoughtful analysis. Greater numbers of people are staying well-informed on world events, and being inspired to take meaningful action.
We aim to offer readers a comprehensive, international perspective on critical events shaping our world – from the Black Lives Matter movement, to the new American administration, Brexit, and the world's slow emergence from a global pandemic. We are committed to upholding our reputation for urgent, powerful reporting on the climate emergency, and made the decision to reject advertising from fossil fuel companies, divest from the oil and gas industries, and set a course to achieve net zero emissions by 2030.